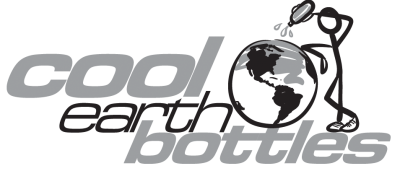 Cool Earth Bottles is a small, Glasgow based company that is family run. We started selling steel water bottles in 2008 and were one of the first companies in the UK to supply steel water bottles. The rise in popularity of the steel bottle has been huge but we have a way to go.

Steel bottles are what Cool Earth Bottles are about. Having a re-usable bottle close at hand and using it is very environmentally friendly as opposed to buying drinks in disposable containers. Our water bottles are BPA Free, have no liners and are one of the safest containers for drinks on the market.

The state of the Oceans and the meteoric rise in the amount of plastic being used and dumped is one of the main reasons that the company was formed. The drinks industry is responsible for a lot of disposable plastic going to landfill or else-where. By moving towards re-usable we can cut down our consumption.

We hope you enjoy using our bottles, they are simply designed, simply packaged, simply brilliant.
If you have any questions or anything to add to the site please contact us.